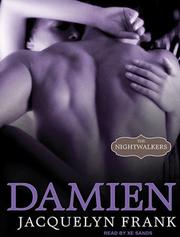 DamienJacquelyn Frank; Narrator: Xe Sands;
Length: 11 hrs 4 mins
Tantor Media, Inc. 2011WorldCat•LibraryThing•Google Books•BookFinder 
Speed dating notes:
"Oooh, this one is a hunk of hotness and he sure knows how to show a girl a good time. Take him home for the night but not to meet Mom. He won't be good for a long term relationship"
Story: C+
Narration: B+
The Vampire Prince Damien has seen and done it all but when he rescues Lycanthrope Princess Syreena from the series-wide nemesis, sparks fly and his life becomes interesting again. Syreena has lived a constricted life as her sister's heir and giving in to her attraction to Damien will have repercussion not just for the lycanthropes but for the entire Nightwalker world. A shift away from demons as the central characters keeps this fourth book in the series relatively fresh and lots of steam and very good narration by Xe Sands make up for phrasing and sentence structure that's more convoluted than necessary.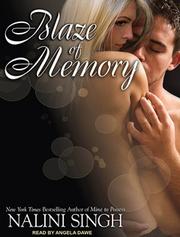 Blaze of MemoryNalini Singh; Narrator: Angela Dawe
Tantor Media, Inc. 2011
Length: 11 hrs 25 minsWorldCat•LibraryThing•Google Books•BookFinder 
Speed dating notes:
"Oh, honey. I've seen you here six times before tonight. I really think we'd be compatible but those unexpected pauses when you speak that started showing up with your fourth outing make me worry for your health. And now you're yawning while talking to me? No wonder you're looking for a match; someone needs to vet you before you leave the house."
Story: B+
Narration: D+
When a Psy with amnesia is dropped on Dev Santos' door, he suspects she's a Trojan horse meant to destroy the Shine organization but distrust soon turns to passion. Will they win the race against the clock to solve the mystery of her past? I liked the story a lot and congratulations on being the first PNR to make me cry but my mad love for this audiobook series has waned as strange pauses in Angela Dawe's narration started showing up, ruining what is otherwise enjoyable storytelling.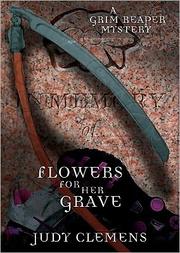 Flowers for Her GraveJudy Clemens; Narrator: Tavia Gilbert
Length: 8 hrs 55 mins
Blackstone Audio, Inc. 2011WorldCat•LibraryThing•Google Books•BookFinder 
Speed dating notes:
"Not my usual type but there is just something about you…I can't take my eyes off you. I forget about you between date nights but when I know you are going to show up I practically stalk you. Your tragic history and struggle to overcome your emotional scars keep me coming back. If we do hook up, though, you're going to have to get rid of your buddy, Death"
Story: B
Narration: B+
Casey Maldonado is a woman on the run from her past. This third series installment finds Casey in Florida and assuming a new identity as fitness instructor Daisy Gray. As Casey slowly starts to heal from the death of her family, her relationship with her constant companion – Death – has altered. Still a contentious one, Casey and Death are now interacting more like friends rather than adversaries. Solving the mysterious death of a resident of the Flamingo apartments pulls Casey into a twisty mass of blackmail, jealousy, and secrets. I really enjoy this series although this book less so than the previous two. The theme of health/exercise/maintaining outward appearances was over-emphasized and struck a discordant note for a book where the motivations for the central mystery had nothing to do with that. Casey is a very sympathetic character and Death makes for an amusing diversion. I am glad to see Casey starting to heal and the ending makes me oh so anxious for book four. The narration has done nothing but improve as the series continues, especially in the delivery of male voices, and I enjoyed Tavia Gilbert's delivery.